英国论坛
How to haggle down the price of your dream home: Property experts share their tips - and we reveal where you're most likely to get a big discount
http://www.dailymail.co.uk/money/mortgageshome/article-5994895/Buying-house-Estate-agents-reveal-haggle-best-deal.html
[ol]
Houses in Aberdeen sell for 8.3% lower on average than the original asking priceAcross the UK, on average houses sell for £10,822 less than the seller wantsThe discount from asking prices in London narrows for first time in two yearsHenry Pryor: 'You make money when you buy, not when you sell'
[/ol]
Homebuyers in the UK are managing to knock £10,822 off asking prices on average as the majority of the country remains very much a buyers' market, new figures suggest. The latest figures from Hometrack have revealed a UK-wide discount to asking price of 3.5 per cent - the difference between what a home was originally listed for and what it eventually sells for. Taking into account this month's average asking price of £309,191, that means on average buyers are clinching houses for £10,822 less than what the sellers want. That doesn't sound like that much, but it is worth bearing in mind that a sizeable number of properties see much bigger cuts than this and many will see tens of thousands of pounds shaved off listed asking prices before they go under offer.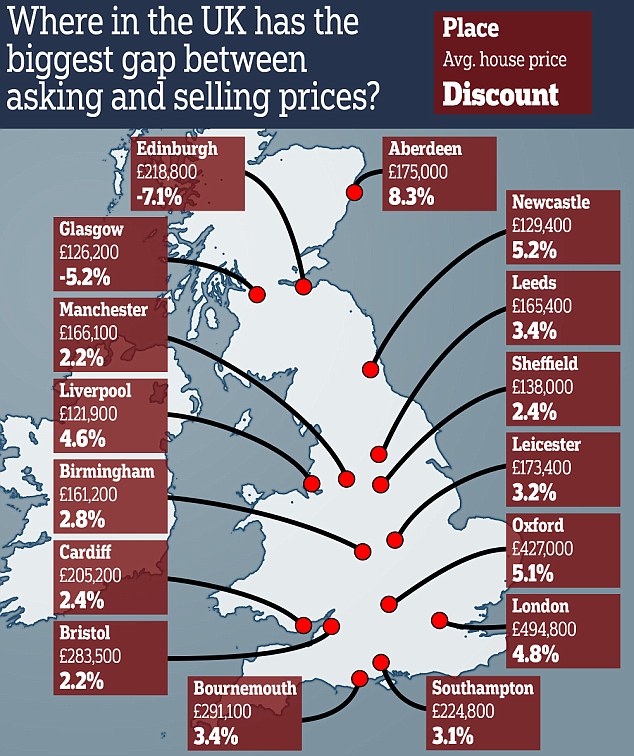 But on a more granular level the differences across the country vary dramatically. The level of discounting from the asking price to achieve a sale is lowest in Manchester at 2.2 per cent, where market conditions have remained strong for the last two years. Discounts have also fallen in Liverpool, where prices are rising off a low base, but remain above average at 4.8 per cent. In Edinburgh and Glasgow, houses on average actually sold for more than the original listing, at -7.1 per cent and -5.2 per cent respectively. In Scotland, properties are often purchased through the sealed bid system, which can result in a higher purchasing price. In London, discounts from asking prices have narrowed for the first time in two years.

I'm buying a house but don't know how to haggle - what are the best tactics?
Buying a house can be daunting, whether as a first-time buyer or an experienced mover, especially if you're not sure of the best way to negotiate on the price. For example, do you put in a high offer first in order to secure a deal fast, or start with a low offer and try to save some money? Jeremy Leaf, north London estate agent and former RICS residential chairman, said: 'When making an offer, much depends on local market conditions prevailing at the time. Are buyers or sellers on top - or is the market fairly balanced between the two? As always, timing is everything.
'Hopefully, you will have a feeling for market strength or weakness as well as for the area or type of property you are interested in - this may be from your own research, estate agents and properties under offer or sold directly or via the portals. 'It may be worth asking the estate agent for advice before making an offer, but remember that they act for the seller.'
Buying agent Henry Pryor, who has bought and sold over 1,000 properties, recommends buyers start low and raise their offer gradually. 'The buyer decides what a house is worth, the seller decides if it's enough,' he said. Always expect to be pushed up so usually it's best to start low and be pushed gradually
Henry Pryor, buying agent。'Always expect to be pushed up so usually it's best to start low and be pushed gradually but like an auction, decide before you start just how far you are prepared to go and stick to it.
'Most people buy a property having fallen in love with it to start with so don't get carried away.' Before you put in your offer, it is a good idea to check how long the house has been on the market - if it's been up for sale for a while, it could suggest the property is overpriced. Similarly, if the asking price has dropped since it has been on the market it could indicate the house is struggling to sell. It can also pay to do your research and find out if the property is being marketed by more than one estate agency. If so, the agent you're viewing through may encourage the seller to accept a lower offer, so as to secure the commission ahead of the other agent. 'Remember, the agent is not a broker,' added Pryor. 'He is paid by and represents the seller. His job is to pick your pocket and he will try every technique to do so.'

First-time buyers most reluctant
Research last year revealed that first time buyers – those at the bottom of the chain and often with the least to lose – are the most reluctant to haggle on price. Research from Barclays Mortgages revealed that 51 per cent of those who bought a home for the first time regretted not negotiating before purchase. One in five British first-time buyers paid over the asking price for their property. First-time buyers from Yorkshire proved to be the most likely to go over the asking price, with almost a third paying more than the initial selling price. The Barclays research claimed that a huge 91 per cent of first-time buyers who purchased within the past five years, believe there is not enough negotiating advice available from trusted sources.
We've agreed a price but I've changed my mind and want to lower my offer - is this possible?
You can change your mind once an offer has been accepted, but you'll need a very good reason - a simple change of heart probably won't work. If there is a material reason, say a poor survey or valuation is received or problems arise on the title documents, then a revised offer will have a far greater chance of success. Pryor said: 'A deal that is agreed "subject to contract" means either side can change their minds so both need to work quickly and efficiently to get to exchange of contracts to get the certainty of knowing that the deal is done. 'You make money when you buy, not when you sell. Selling requires someone else to agree that what you have is lovely and have the wherewith-all to pay for it. 'Buying is the only time you are in total control. It is the only time when you can walk away without it costing you a lot of money.'
How to make your home look good to buyers - and get it sold
If you are selling your home you need to make it look as good as possible. And that starts before you welcome any potential buyers through the door, as to even get them to consider visiting it needs to look great in estate agent's photos. In a world where people go online to hunt for properties, how can you do that? In this excerpt from the This is Money podcast we give sellers some tips to make their home shine.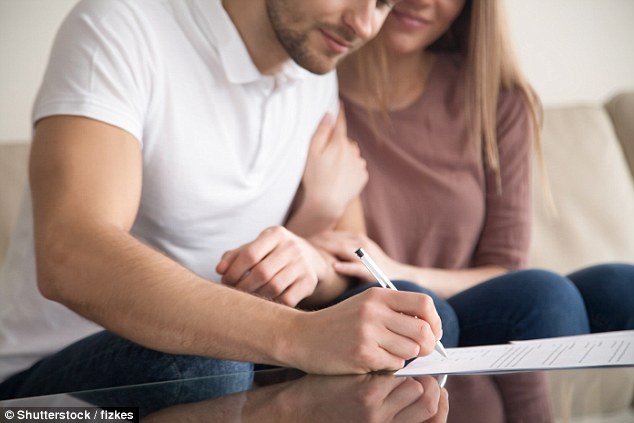 THE UK'S BIGGEST GAPS BETWEEN ASKING AND SELLING PRICE? City Average price Discount to asking price
Manchester £166,100 2.20%
Liverpool £121,900 4.60%
Birmingham £161,200 2.80%
Leicester £173,400 3.20%
Cardiff £205,200 2.40%
Sheffield £138,000 2.40%
Nottingham £149,900 2.30%
Bournemouth £291,100 3.40%
Leeds £165,400 3.40%
Portsmouth £239,000 3.10%
Bristol £283,500 2.20%
Edinburgh £218,800 -7.10%
Newcastle £129,400 5.20%
Glasgow £126,200 -5.20%
Southampton £224,800 3.10%
Oxford £427,000 5.10%
London £494,800 4.80%
Cambridge £439,600 2.90%
Aberdeen £175,000 8.30%
回帖
多谢成龙大哥分享
回帖
多谢成龙大哥分享
请大哥谈谈明。后两年的房价走势。
打算买房自住
先谢谢!
回帖
鸭巴甸房价跳水,是因为前几年石油价格崩溃……但最近石油价格有所反弹,所以还不好说…
回帖
大家看那篇bbc的文章了吗?有分析你能在哪儿买得起的地图。
很不错。
https://www.bbc.co.uk/news/business-45018643
才发现伦敦南边完全没有城市!
不知道为啥大家都说南边好?都是乡下人!好个毛线。
南安真是我去过的英国相当破的城市了,比rotherham也好不了多少。
回帖
回帖
回帖
回帖
回帖
回帖
经常见有些人计算伦敦通勤成本,火车月票多少钱,地铁月票多少钱,我想说的是,你丫认为30度气温在伦敦挤地铁是一种什么享受是吗?!还要花钱,我去,倒贴劳资钱劳资都不坐那破玩意:lol
回帖
有钱人不会在乎火车票这些小钱的